Our experienced and personable dental team is here to handle anything you need to enjoy a positive visit at Crown Hill Dentistry. From checking you in at the front desk to assisting Dr. Brittany Gooding, Dr. Erica Chhokar or Dr. Ben Cvengros in our treatment rooms, you can count on us to make sure you are well taken care of. Call us today at 765-832-7741 to schedule an appointment with our dentists in Clinton, Indiana.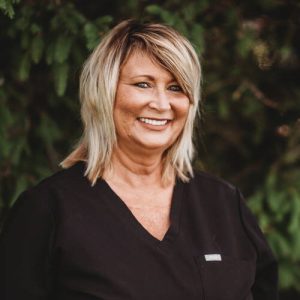 Jamie is likely the first smile you will see at the end of your appointment or the first hello that you hear on the phone. She has been with our practice since 1994, and she is a graduate of Indiana Business College. Jamie is proud to work for a family-friendly office that is up to date on the latest technology and features such a friendly staff. She is a real people person! She and her husband enjoy spending quality time with their daughters, grandchildren and goldendoodle, Molly.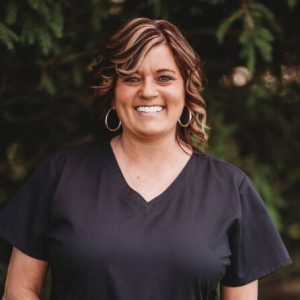 Suzanna helps coordinate all the front desk responsibilities, including billing, scheduling and checking in patients. She has been with us since 2013 and graduated from West Vigo. Suzanna enjoys meeting new people and talking to all our patients; even though she may see you for only a few minutes, she will be sure to have you smiling fast! With her quick wit and big heart, you can be sure she will help you out however she can. She has been married to her husband for over 15 years, and they have a son and daughter. For fun, Suzanna enjoys cooking, camping and gardening, and she also enjoys watching her daughter participate in sports.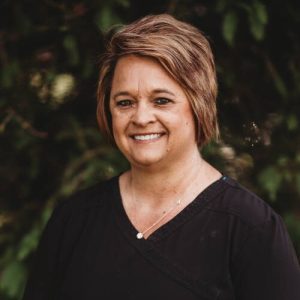 Valerie
Treatment Coordinator
Valerie will be one of your favorite people as you look at options for getting your mouth healthy. She helps explain all your options and helps with every aspect of making your goals possible including planning, scheduling and financing. You will see her really shine as she goes above and beyond to help you achieve the goals you have for your health. You may also catch Valerie at chairside because she is also a dental assistant and especially loves the relationships she builds with our orthodontic patients. She has been with us since 2004. She attended the Indiana University School of Dentistry for her dental assistant certification and has expanded her training to include certification in radiology, coronal polishing and fluoride treatment. Valerie is all about team and loves that the whole team feels like family and takes care of one another. She is very versatile, and she likes switching between her many roles. During her free time, she enjoys being with her family and friends, playing softball, camping, boating and crafting.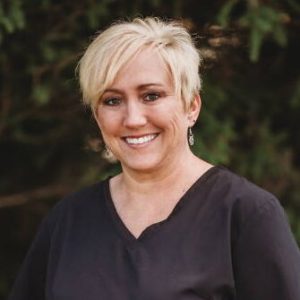 Amy has been shining smiles with the team since 2016. Her passion for dentistry began in 1990 as a high school student working in a cooperative learning program. Seeing first-hand how a healthy mouth and a good oral hygiene can have such a positive effect on a person's overall health, she knew that she had found her calling. She received her associate degree in applied science at Lakeland College and has been serving her community ever since. She is enthusiastic about patient education provided in a compassionate manner in a caring environment and especially loves to teach children the value of good oral health. She is also excited to be a part of an ever-growing field and loves to expand her knowledge to provide the best care possible to her patients. Amy is thrilled to be helping many of our patients achieve the healthiest mouth possible through treatments for sleep apnea and TMJ.
When she is not helping patients put their best smile forward you can usually find her on long walks with the dogs, reading a book or planning travels to the nearest sunny spot. However, what she loves most is hearing blues music played by her favorite musicians: her husband and high-school sweetheart of over 30 years and her two amazing sons. And her family continues to grow with the addition of her sons' brides, so she cannot help but smile her best smile!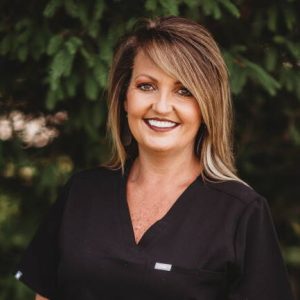 Jennifer has been with our office since 1987. With her years of services and her caring personality, she has a true patient following, which is not a surprise when you experience what it is like to be in her chair. Jennifer is dedicated to providing comprehensive care and completes cancer screenings, periodontal assessments, airway screenings and of course periodontal therapy and preventative cleanings. She is also certified in administering local anesthetic. Jennifer received her degree in dental hygiene from the Indiana University School of Dentistry. She is married with four children. In her free time, Jennifer enjoys attending all of her children's sporting activities and spending time with her family and friends.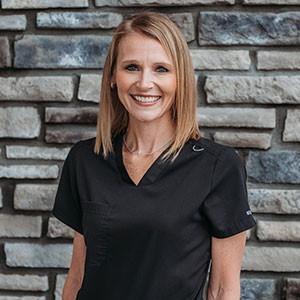 Jonie is a 2002 Indiana University School of Dentistry graduate. She has been practicing as a registered dental hygienist for 19 years. In addition to her associate degree in dental hygiene, she has obtained her license to administer local anesthesia. Jonie believes that great oral health is key to overall, total body wellness. She believes that systemic health is directly connected to oral care and function. Patients are her number one priority, and she thinks it is of great importance to connect with people, make them feel comfortable and provide them with the information they need to make solid oral health decisions in an environment that is friendly and enriching. Jonie loves the team approach that all patients are afforded under the excellent care of Dr. Gooding. In her free time, Jonie enjoys running and family time with her husband Travis and their three kids, Hadley, Hollis and Malayna.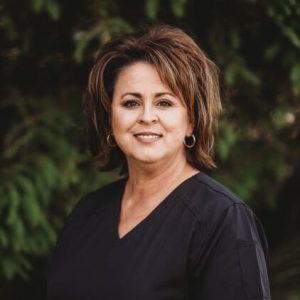 Suzie
Dental Hygienist, Oral Myofunctional Therapist
Suzie has been a registered dental hygienist for over 29 years, and she came to our practice in 2001. She earned her associate degree in dental hygiene in 1992 from Indiana University School of Dentistry. She is also licensed to administer local anesthesia.
In December of 2020, Suzie became an orofacial myofunctional therapist. This practice enables her to identify, prevent and treat disorders of muscle function of the face and mouth. She is currently on the path to certification in myofunctional therapy.
Bettering the health of the patients is the main goal that she strives for daily. Also important to her, is the team approach that is in the office. Suzie believes humor is the best medicine and uses this approach to help patients and her staff family.
For fun, she likes to watch movies, spend time with family and continually absorb information relating to myofunctional therapy and airway. Suzie and her husband, Webb, have two children.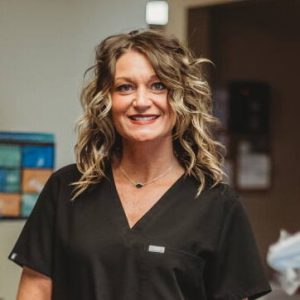 Andrea has been a dental assistant with Crown Hill Dentistry since 2001. She has grown in this field by attending Indiana University School of Dentistry to be certified in expanded duty, coronal polishing, fluoride application and radiology. She has a passion for dentistry and uses her experiences to comfort patients and make them feel right at home. You will never know what Andrea and her patients might be catching up on because to her they are all friends and family. She will always be up for a good laugh or a good cry – whatever you need that day. When Andrea is not working, she loves spending time with her husband, Mark, and their three daughters, Isabella, Alandra and Nahla. They enjoy outdoor activities, going to the movies and of course, shopping!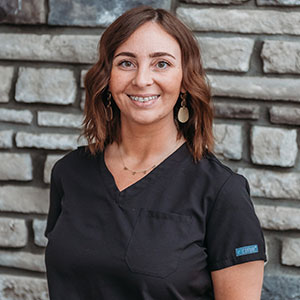 Brianna was born and raised in Clinton, but she moved away after high school to be alongside her husband while he was in the military. She recently moved back in 2021 to work at our office as a dental assistant. Since working with us, she has been eager to learn and has received her radiology license and attended the Dental Assisting School of Indianapolis to become an expanded functions dental assistant. She has loved working with an amazing team and having the opportunity to help people feel confident in their smiles. She and her husband, Brent, have been married since 2011, and they have four boys. In her spare time, she enjoys kayaking, being active, traveling and doing home renovations.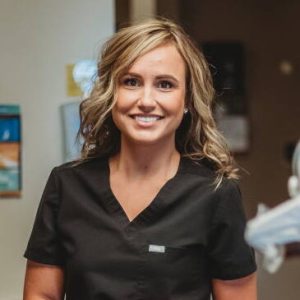 Jami is a Clinton native and a graduation of the 2016 American Red Cross Dental Assistant Program that she earned while stationed in Misawa, Japan. Jami is certified in expanded functions, radiography, coronal polishing and fluoride application from the IU School of Dentistry. She joined our dental family in 2018. Jami loves the work she does in our office and is extremely passionate about helping and treating our patients with TMJ disorders and sleep apnea. Jami also is passionate about the work we do for our veterans. Jami has a teenage son, Braden, and a stepdaughter, Maiya. She has been married for almost two years to her husband, Justin. In her free time, she likes to camp, hike, kayak, travel, road trip and almost anything she can do outdoors.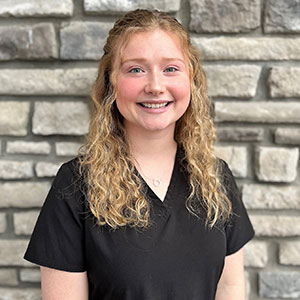 Kaylee graduated in 2020 from the Terre Haute Dental Assistant School. She always knew she wanted to work in the dental field, as well as work with kids. Since she was a little girl, she felt like she grew up in the dental office, due to having braces for multiple years and her grandmother working for a local lab, which is she chose a practice specializing in family dentistry. When she is not working, she may be traveling, getting coffee with friends, or playing dinosaurs and Barbies with her niece and nephew. Kaylee has two dogs, Ray and Poe, and if you cannot tell by their names, Kaylee is a huge Baltimore Ravens fan. She enjoys warm weather, and in the summer, you can catch her on the water, usually kayaking and fishing.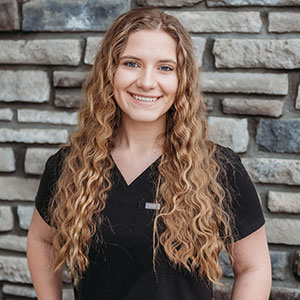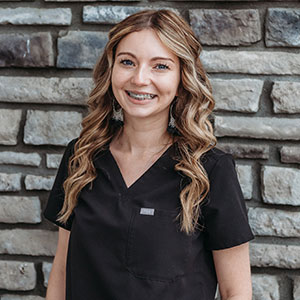 Lindsey received her dental assisting certification in 2019 and joined our team in 2020. She loves the family-friendly atmosphere that we have in our office and has already formed great relationships with so many patients. Lindsey is a dog mom to an Australian Shepherd/Husky mix. When she is not working, she enjoys spending time with her family and friends and especially loves attending her nieces' and nephews' sporting events.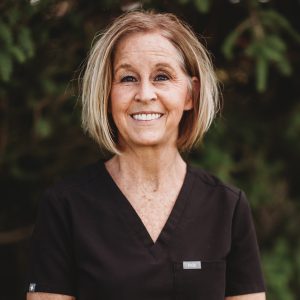 Stacey assists the dentist and can perform expanded functions. She has been with our practice since 1986! She received her dental assisting certification from Indiana University, and she is certified in X-ray tech, coronel polishing and fluoride application. For Stacey, the family-oriented atmosphere of the office is a definite plus, and she likes that we take a non-judgmental stance toward oral health. She cares a lot about our patients, and she is very particular about the care they receive. She has been married for almost 36 years and has two children and four grandchildren. Her hobbies include shopping and being outdoors. She also loves her cats.