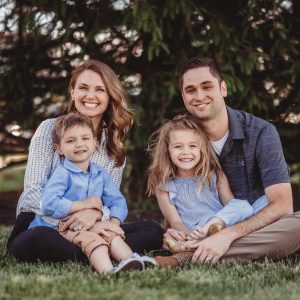 Dr. Gooding grew up in Cayuga and found her calling to dentistry at a very young age. She graduated cum laude with a Bachelor of Science in general human health sciences from Purdue University in 2007 then obtained her Doctor of Dental Surgery, cum laude with highest distinction, from Indiana University School of Dentistry in 2011. During her education, Dr. Gooding received numerous awards including the American Academy of General Dentistry Senior Award, the American College of Prosthodontists Award, the President's Award for National Board Scores and the George A. Welch Memorial Scholarship.
Dr. Gooding then joined Dr. Cloyd in practice shortly after graduation and has continued to strive for excellence in all aspects of patient care and experience. She loves seeing patients of all ages and is passionate about treating patients as a whole person, not just a mouth. This means focusing on not only teeth but also airway, TMJ and overall health and function.
To stay current on all the most recent advances in dentistry, orthodontics, TMJ and sleep apnea, Dr. Gooding attends multiple hours of continuing education every year. The training she receives at national seminars helps her to ensure her patients are getting the most up to date and comprehensive care available. She has attained active status in the International Association of Orthodontics (IAO) and has also completed a residency in airway-focused orthodontics which allows her to provide more to her orthodontic patients than just a healthy smile but a healthier airway as well.
Dr. Gooding has also gained Qualified Dentist Status in the American Academy of Dental Sleep Medicine and completed a mastery program to ensure she is providing the best care available to her patients suffering from sleep apnea.
Dr. Gooding has excelled to the highest level attainable for treating sleep apnea and is designated as Diplomate of the American Board of Dental Sleep Medicine.
Dr. Gooding is a member of numerous professional organizations including the American Dental Association®, American Academy of Craniofacial Pain, the Western Indiana Dental Society, the Academy of General Dentistry, member of and trained in sedation through DOCS, the American Academy of Implant Dentistry, Member of American Academy of Dental Sleep Medicine and is an acting Board Member of the Mid East Society of Orthodontics for General Practice.
She is also an active member of the community dedicating time to various organizations including actively volunteering with the Clinton Breakfast Optimist Club, working with the Tri Kappa Philanthropy Organization and acting on the committee for the Vermillion County Dancing with the Stars (which supports the Clinton Community Recreational Center).
Dr. Gooding married her high school sweetheart, Cody, in 2011 and he now manages the office. They have two children, Ella and Gabriel. She enjoys spending time with family and friends, dancing, camping, hiking and traveling.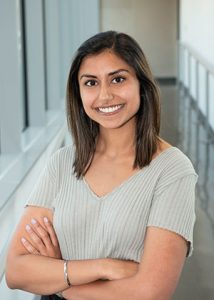 Dr. Erica Chhokar was born and raised in Dyer, Indiana. She went to Indiana University-Purdue University Indianapolis where she earned her Bachelor of Science in biology with high distinction in 2018. After graduation, she pursued her calling of dentistry and attended Indiana University School of Dentistry. Before graduating in 2022, Dr. Chhokar spent her time in dental school volunteering for underserved communities through the Indiana University Public Health Club and helping fellow students as a teaching assistant and a Hoosier Helper.
During her last year of dental school, Dr. Chhokar met the Goodings and knew that their practice was one where she could feel at home. She is so excited to join the practice, learn and expand her skills, and give the best patient care possible!
Apart from her love of dentistry and patient care, Dr. Chhokar loves traveling and enjoys hiking. Her love of music evolved from playing the clarinet and saxophone, and she now enjoys attending various live performances and is currently learning the flute. During the winter, she normally spends her time doing puzzles and knitting, particularly hats!